A few days ago I had the chance for a private tour of the famous Beachview Bed & Breakfast, on Tybee Island, Georgia! I've had my eye on this gorgeous venue for a while now, as it's the most colorful and beautiful property I pass on my way in and out of Tybee Beach. You can't miss the sunshine yellow siding, the red brick, and the sky colored roof! Accented out front are tall mature palms and perfectly placed flowers – usually covered in multicolored butterflies!
When I first arrived and Miss Wendy met me out front, I could tell this was a perfect location for families, weddings, and elopements – a family run business just knows FAMILIES. The entire family met me out front! Two, bright-blonde kiddos were running around watching butterflies, chasing the local lizards, and snuggling with the several sleepy cats found on the property. I didn't just pull into a venue, I pulled into a family's pride and joy.
When you get a chance, you should definitely check out Beachview's personal website and blog (click here) and learn about the extensive history and restoration process the venue underwent! Built in the 1910's, (WOW!) the bed and breakfast operated as a hotel and venue for nearly 90 years! Now miss Karen Kelly has lovingly took ownership, and restored the venue – recycling so much of the beautiful original wood and hardware. Now the Bed and Breakfast has been updated and made even more comfortable, while still retaining the timeless class from when Beachview was first originated.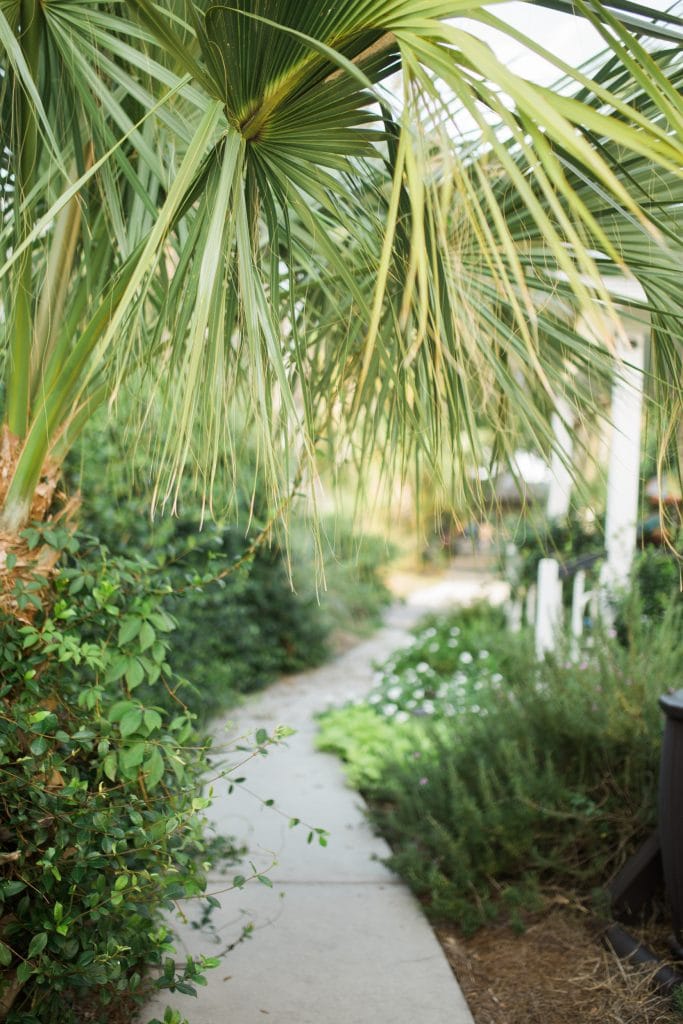 The way Karen put it, "We carefully removed each historic board as needed for structural integrity, rebuilt the walls & floors, & then reattached the original pieces – including the original 100 year-old heart pine floors. The wiring, plumbing, heating & cooling systems, insulation, windows & bathroom fixtures have all been replaced for improved comfort & energy conservation. We restored, replaced & recycled. It's the best of old and new together in this home, always with your comfort in mind."
You'll see in the photos, that adjacent to the Bed and Breakfast is the perfect reception hall for your Tybee Beach Wedding or Savannah Elopement. Utilizing state-of-the-art technology, not only does the reception hall have screens to prevent bugs or sand, but it's also got remote controlled transparent vinyl windows that are completely hidden, even when utilized. This allows the reception hall to still keep that 'beachy' and open vibe, but keeps your guests comfortable and cool. The remote controlled industrial air conditioners certainly help, too!
Offering packages including food, accomodations, and everything in between – you'll definitely want to talk to Wendy (this link is her email!) at Beachview Bed & Breakfast when considering your Tybee Island wedding or elopement! Tell her Bud sent you, and I'll be sure to send you a special thank you gift, too! 
What you want to know:
Having the reception and accomodations all in one location. Weddings are awesome reasons to party, and having a place to stay after your reception is an amazing touch. Plus the rooms are INCREDIBLE here!
You're so close to the beach! Not only could you have your wedding on the Bed & Breakfast's campus, but you could EASILY have the wedding on Tybee's Beach – easily within walking distance.
Everything in one place! They truly know how to take care of you here. Contact Beachview today to talk to them about making your wedding or elopement planning EASY!
Not only did Beachview purchase the adjacent lot and build an amazing reception hall – but rumor has it they've purchased a second, adjacent lot for MORE rooms and even a special spa getaway for Tybee Island!
The ease of having everything done and completed in one place. Planning a wedding can be stressful – Beachview takes the stress out of it all and can help you plan your beach wedding from start to finish
Tips for an awesome wedding here:
Make sure your guests know that Tybee is a pay-for-parking Island. There isn't any free parking on Tybee Island. All parking spaces must be paid for, seven days a week, from 8am until 8pm. We highly suggest buying a day pass and displaying it on your windshield. This lets you park anywhere on the Island for the entire day. If your guests are staying somewhere else, we highly suggest a trolly or shuttle service to help people get around. Parking is limited at Beachview.
I can't wait to share some wedding images from this amazing venue with you soon! Beachview Bed & Breakfast is an incredible location and absolutely worth your visit!